Три богатыря: Ход конём (2015)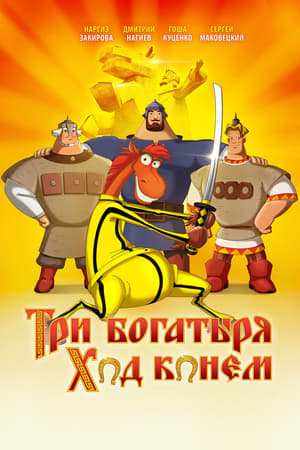 Three Heroes and Julius Caesar
Три богатыря: Ход конем
Overview
The court horse Gaius Julius Caesar to his misfortune overhears boyars and learns about a conspiracy against the prince. What to do? Protect a prince no one! Heroes away - catch a robber Potanyu, Dragon on vacation, the army on maneuvers ... But if the bad guys are going to take over the world, to someone it is necessary to save him? Who is he, a hero who will come to the rescue? Of course, the horse Julius! This Strategy and the "grand strategist". He would save all, but if you do not save, then at least try. Most importantly, to the rescue of the world did not turn a complete disaster.
Cast

Sergei Makovetsky
Dimitri Vysotsky
Dmitriy Nagiev
Gosha Kutsenko

Alexandr Boyarsky

Oleg Kulikovich

Anatoliy Petrov

Valeri Solovyev
Dmitriy Bykovskiy-Romashov
Liya Medvedeva
Mariya Tsvetkova-Ovsyannikova

Elena Shulman
Maxim Sergeev
Mikhail Khrustalev

Mikhail Chernyak
Crew

Sergei Selyanov
Slava Se
Konstantin Feoktistov

Alexandr Boyarsky

Alexandr Boyarsky
Придворный конь Гай Юлий Цезарь на свою беду подслушивает разговор бояр и узнает о заговоре против князя. Что же делать? Защитить-то князя некому! Богатыри далеко — ловят разбойника Потаню, Горыныч в отпуске, войско на учениях… Но если плохие парни собираются захватить мир, то кому-то же надо его спасти? Кто же он, настоящий герой, который придет на помощь? Конечно, конь Юлий! Настоящий стратег и «великий комбинатор». Он непременно всех спасет, а если не спасет, то хотя бы постарается. Главное, чтобы операция по спасению мира не обернулась полной катастрофой.
Click to rate this post!
Вы должны войти в систему, чтобы голосовать