Три богатыря и Наследница престола (2018)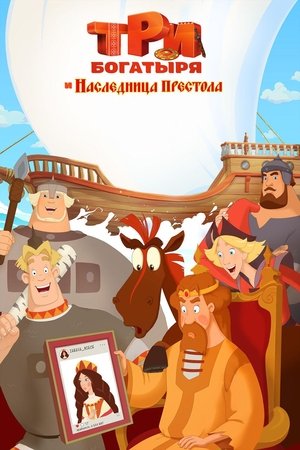 The Three Heroes: The Heiress to the Throne
Три богатыря и Наследница престола
Overview
The Prince of Kiev decided to appoint an heir to the throne, only bad luck - who could it be? A relative, friend of the family or maybe an overseas princess? Without thinking twice, the Prince-Father chooses almost a princess, and most importantly a relative - his niece Zabava. Today, she and her husband, Elisha (do you remember the faithful student of Dobryni Nikitich?), Receive her education in faraway Constantinople, where the treacherous Vasileus rules. In order to return the heiress to her native lands, three heroes are sent in a hurry, and, of course, the main court horse, Julius.
Cast

Sergei Makovetsky
Dmitriy Bykovskiy-Romashov
Valery Solovyev

Oleg Kulikovich
Dimitri Vysotsky

Konstantin Bronzit

Mikhail Chernyak

Alexandr Boyarsky
Yekaterina Gorokhovskaya
Yuri Tarasov

Konstantin Bronzit
Maxim Sergeev
Crew

Sergei Selyanov

Konstantin Bronzit

Konstantin Bronzit
Maksim Sveshnikov

Alexandr Boyarsky
Три богатыря и наследница престола» источником основного сюжетного конфликта вновь выступит князь Киевский. Князь является единственным персонажем, который появлялся во всех частях франшизы. И если в первом мультфильме его роль была эпизодической, нам его только представили, то дальше все события завязаны на нем и его бедах. А с учётом того, что князь обладает не лучшими человеческими качествами: он трусоват, жаден и довольно хитер, богатырям то и дело приходится выручать его из разных ситуаций, в которых он оказывается из-за своей глупости. Из тизера девятого мультфильма понятно, что теперь князь серьезно приболел. Или же, будучи хитрым князем, он просто притворяется, чтобы добиться каких-то своих целей. Но в любом случае у постели князя собрались бояре, наши главные герои: Алёша Попович, Добрыня Никитич и Илья Муромец, ну и конечно, конь Юлий. И пока Юлий убивается по поводу безвременной кончины правителя, который между прочим жив, и переживает о том, упомянут ли он княжеский конь в завещании, богатырям приходит в голову важная мысль. Как известно из предыдущих частей серии у князя нет ни детей ни внуков, то есть нет прямых наследников, а значит в случае чего некому будет передать престол. Об этом и вспоминают богатыри. Поразмыслив, князь припоминает свою племянницу Забаву, а ныне жену Елисея. Она и назначается наследницей престола в случае чего. Но возникает проблема: оказывается, что наследница вместе со своим мужем сейчас находится в далеком Царьграде, где получает образование. И богатыри получаются задание от князя доставить Забаву на родную землю, так как негоже принцессе, которая вот-вот может стать княжной находиться в государстве коварного Василевса.
Click to rate this post!
Вы должны войти в систему, чтобы голосовать